Article Options
Mark as New

Mark as Read

Bookmark

Subscribe

Email to a Friend
Putting the Social in Cause Marketing with Kraft
Our friends at YourCause create weekly insightful profiles of cause marketing campaigns. Here's their latest edition, which originally appeared on the YourCause blog. YourCause is a provider of global employee engagement solutions. You can learn more about YourCause's CSRConnect platform and get additional CSRinsights here.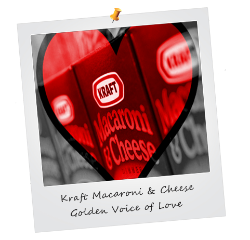 Company: Kraft Macaroni & Cheese
Cause: Hunger
Partners: Feeding America
Website: https://twitter.com/kraftmacncheese
Program of Action
Kraft Macaroni & Cheese is teaming up with Feeding America to support hunger in the United States by launching their first Valentine's Day campaign, Golden Voice of Love. For every consumer's Valentine's Day tweet tagged with #VoiceOfLove on Twitter, Kraft will donate 100 boxes to Feeding America, up to 100,000.
Ted Williams, the homeless man who became famous for his unique soulful voice, will be recording your tweet in a personalized video reading. All tweets tagged with #VoiceOfLove will be sent to Mr. William's virtual mailbox. He will record the tweet and then send the message to whom it may concern with a link to view the video via Twitter. All Voice of Love videos will be available to view on the Kraft Macaroni & Cheese YouTube Channel (kraftmacncheese).
Best Practices
Many cause marketing campaigns are based through social media and can be shared through Facebook or Twitter; however, this campaign seemed a bit different in that it
1. creates a hashtag Twitter campaign, and
2. launches Golden Voice of Love during a holiday
Firstly, consumers can only support the campaign through Twitter – a practice commonly known as hashtag Twitter campaigns. These evolving campaigns offer a clear call-to-action approach to urge consumers to simply tweet a personal message and help support a cause. In addition, social media sites can be used to raise awareness in a quick manner and cultivate an online community where users can communicate, engage, and act for a cause.
Secondly, holiday marketing is a great way to engage consumers to get involved with the holiday spirit and give back. As consumers prepare to buy gifts for their loved ones, they often want to give to individuals in need, as well. Centering a campaign on a holiday also means the campaign must end once the holiday has passed. A short timeframe keeps consumers involved and allows them to act upon the request (or share with others) as soon as possible.
Program Outcome
Golden Voice of Love will donate 100,000 boxes of Macaroni and Cheese to Feeding America at the end of the campaign. Consumers do not have much time; the campaign began February 12th and will end on Valentine's Day. Kraft Macaroni & Cheese wants to make sure you spread the love this Valentine's Day and send a personalized recording from the man with a deep and soothing voice to your loved one. Share your love today and help support Feeding America in providing meals for individuals in need.